"Keep your face to the sunshine and you cannot see a shadow."

— Helen Keller
Here is an eye-opening statistic about the lack of positive thoughts. You have between 12,000 o 60,000 thoughts per day. According to the National Science Foundation, 80% are negative! Negativity can send your body into a stress mode. If this fight or flight response continues for extended periods of time, it can negatively affect the human body. For example, increased stress causes the body to release cortisol which affects the immune system's ability to perform properly. Unfortunately, in schools, the year often ends with only negative thoughts about what did not go well. Student test scores aren't what you hoped they would be. Mandates from the state or district can seem overwhelming. How can administrators be more proactive about helping teachers increase their positive thoughts? One way is to start reframing negativity at your end-of-year staff meetings. Turn the negativity into increased positive thoughts.
Ask the Right Questions
Negativity is contagious and so is positivity. To create more positive thoughts in the brain, you need to spend more time talking about what went well. So, put chart paper around the room and have your staff answer the questions listed below. Once everyone has answered the questions, hand out stickers or stars. Let the staff put a sticker or star beside each answer on the chart paper that they liked. By doing this activity together, you are changing negative thoughts to positive ones about the school year. You will take time to acknowledge what your staff wrote and what the majority liked. Therefore, you will make sure that you end the year on a positive note.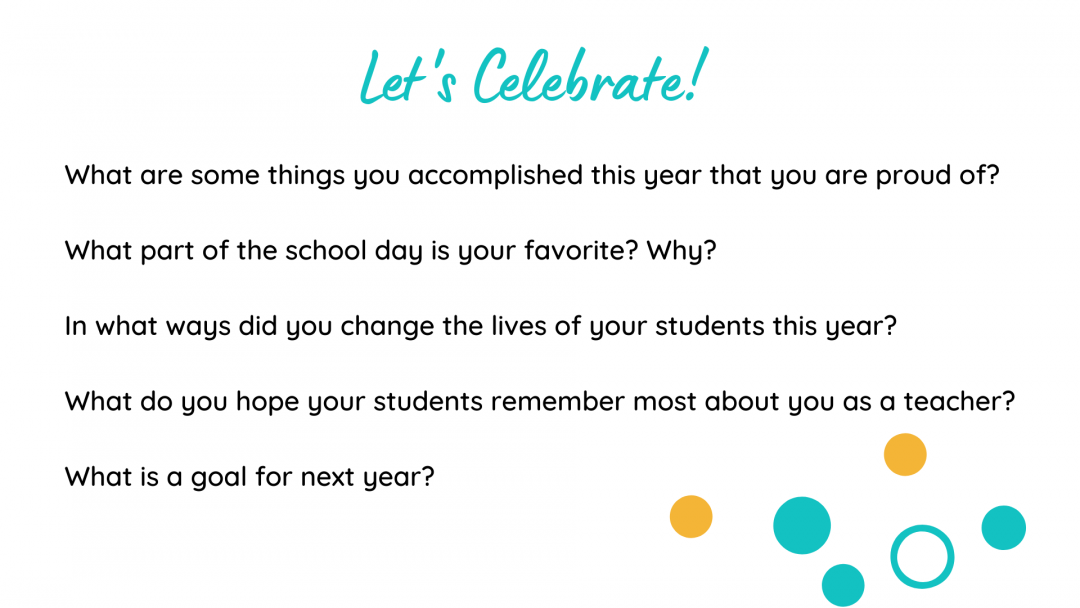 Positive Thoughts for Next School Year
You have gathered some great positive data from this past school year. Hang on to it! You can use this again at the start of the next school year. At your beginning of the year staff meeting, take some time to review how the staff answered these questions. Let everyone remember the great work that they accomplished last year. Next, summarize the trends for what your educators had as a goal to begin the school year. Break into small groups and let the educators brainstorm ways to get those goals accomplished. What a great way to start next school year!
What Teachers Say about Dot It
Many teachers have used Dot It this school year. The results have been extremely positive. Dot It has reduced their stress. Here are some testimonials:
Tonya (SC Special Education Teacher) -"I love the support Dot It provides for developing standards-based goals for my students. Dot It has made my job so much easier."
Jeremy (SC Special Education Teacher)-"Dot It is simple and easy to use. I can know easily monitor student progress with Dot It."
Reduce your teachers' stress for next year. Let's connect. Dot it is only the software in the world that makes it simple for educators to plan, practice, and monitor progress for MTSS and special education all in one place.
Never miss a Dot It Blog. Sign up here for our weekly newsletter!